Bottomless Pizza is now at Charnallies!
Indulge in slice after slice of our stone baked thin crust pizzas with our new Bottomless Pizza. Our pizzas are prepared fresh in house and topped with a tomato and herb sauce and 100% grated mozzarella.
How much is it?
Adult – £16 / Child (under 10) – £8
Add a Sweet Pizza for dessert for £6.50.
Choose from Biscoff sauce, Biscoff biscuit and white chocolate sauce; or Nutella, marshmallows, cookie pieces and chocolate sauce. 
Add a dip for £1.50. 
Choose from Garlic Mayonaise, Sweet Chilli or Hickory BBQ. 

And of course you can add additional sides from our main menu. 
How does it work?
It's really easy to get more pizza to your table; simply light up the Empire State Building and one of our team members will bring you a slice of pizza – this could be the classic Margherita, Chipotle CHocken & Peppers, Marinara Meatballs amongst others. If you want to take a break, just turn the light off!
Please make your server aware of any allergies/dietary requirements when ordering. Please note that a surcharge of £1 will be added for gluten free and/or vegan options.
When is it available?
Join us for a 1.5 hour time slot between 4pm and 7pm Monday to Thursday to indulge in our Bottomless Pizza offer.  Please note that this offer is not available on Bank Holidays.
Our main menu will also be available if guests wish to not have the Bottomless Pizza offer. 
T&Cs
Minimum two people dining and ordering and maximum ten guests
Offer is available by pre-booking only
Price is per person and pizza cannot be shared
Any additional food items ordered will be charged as extra
We reserve the right to change or withdraw this deal at any time
All food must be consumed on the premises
The offer is time limited to 1.5 hours and this commences from the time of ordering
Last sitting is at 7pm
Offer is not available on Bank Holidays
A surcharge of £1 will be added for Gluten Free and/or Vegan options
Anyone found to be abusing the offer, will be refused service.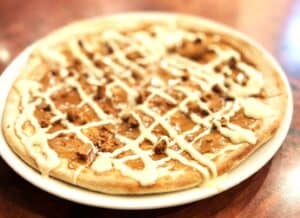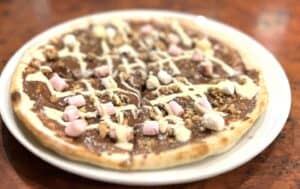 Hungry? Book a table today.
Book charnallies for your next meal out and we promise you won't be disappointed.